I forgot to set my alarm again today but it was a good thing i automatically wake up at 7.

I ate breakfast, the usual. And as usual, i kept one cake to bring to school :)

I wore my flamenco looking skirt today yehey!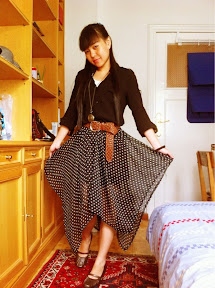 Well i thought of going to La Plaza del Sol today. It was the plaza where the protesters gathered before the elections. Now that the elections are over it is now safe to go there to see the beauty of the place.
Anyway, i had complete school paraphernalias today and i came to class supposedly on time but my classmates were not in the room yet. Then a girl came in to tell my professor Jose that she has come to observe the teaching style because she is a new teacher. Her name is Isabel but unfortunately i was not able to take her picture.
There was a part in class where we were supposed to share something about our own country's history and i am proud to say i was able to say my piece in Spanish :) i am very happy. We talked about Spanish history as well. We had a little activity in class where we had 2 groups and eah group had a paper with moments in Spanish history. Our paper had items with the dates and some without. Apparently the ones without the dates are the dates the other group had and we had to say "blah blah was discovered blah blah years before the first number on the paper" haha! It was fun. We had to do a little math and say a mouthful of numbers in Spanish.
Esteban is still sick and i joked that he should stop smoking and pointed out the wrapper of his cigarette that says "fuma puede matar" or smoking can kill.
I am still a little bit confused with the past tenses of Spanish verbs but i am slowly getting it and i am happy i am :)
I rushed home because i was terribly hungry. I arrived and Mama Eva and Irina were there eating and i ate with them. Then i notice Irina's shirt and i thought we had the same shirt but apparently it was my shirt that Mama Eva thought was Irina's :) But it was ok. She can borrow it :)
I went to my room to wait for calls. I am thankful for technonogy for bringing me closer to my family even if i am miles away.
I fell asleep yet again. I don't like this. Instead of spending time doing more productive things like observing the culture and talking to someone to practice i am here asleep in my room. Ay ¡Que horrible!
After my nap, i read a little of my book and then did my homework.
For once in my life i love homework!!!
I read the newspaper and it was sad to know that a lot of people were laid off by a telephone company here 8,000+ all at once.
Well to feel better, i read my "Enredados" book... Yes! "Tangled" in Spanish :)
I read and read and read and after that, i was called to eat dinner :)
I ate Spanish Omelette or Tortilla con Patatas :) it was really good and it was a very authentic home made Spanish omelette.
After dinner Mama Eva an i ha a little heart to heart talk about growing up and then i did my evening ritual (bath, lotion, moisturizer, etc.)
This was a pretty normal day with nothing special really but i enjoy everyday here. Just like what my new friend Eleazar told me ".. disfruta mucho de tu estancia en Madrid! Aprovechala al máximo porque vale la pena! :)" (enjoy your stay in Madrid very much! Make the most of it because it's worth it!) :)
Well...
~*~*~¡Buenas Noches Madrid!~*~*~