I woke up earlier than my alarm clock as usual. I checked my phone for messages and there was none. Apparently my text messages to the Philippines using my Yoigo never arrived which is why Epoy never replied :) Oh by the way I got a Lebara sim yesterday at the Metro. I used it this morning and tried calling Epoy. OH MY GOODNESS FINALLY WE WERE ABLE TO TALK!! haha! We even talked in face time a bit and I'm really really really happy we were able to because we have not spoken in days.




Outside of my room I heard male voices. And so I realized that the visiting brother and nephew of Mama Eva arrived last night and I did not notice because I was sound asleep or they were just quiet enough.
When I went outside of my room, I met Senor Eleazar and Eleazar the son of Senor Eleazar. We talked a little over breakfast. We had the same carrot cake that we ate last night. It was still very good :) Apparently Eleazar Jr. is studying in San Fransisco. Both Eleazar Senior and Eleazar Junior will go back to Barcelona and San Fransisco respectively.
I did not have much time to chitchat so I dressed up for school and left. Once again I was extra early.
Apparently today is the last day of Anais and Joao. So I insisted on having a group picture of this class before they go. Why is it their last day and only my first week? Because in my school, every monday there are new students.
Oh by the way here are my classmates:
From L-R: Robin, Papa Ingo, Michelle and Joao's profile
Anaïs covering her face, Felipe and Robin
Michelle, Joao, Isil and Induja (michelle is looking straight at the cam because she caught me taking pics)
Every breaktime I have burger with cheese which I bring to school. But my problem after that is, i become hyper. So I told my classmates the Filipinos who can speak in 1 syllable repeatedly in the Elevator story (in spanish ofcourse) which goes like this:
In the elevator there was a Filipino...When the Elevator door opened there was another Filipino and their conversation goes like this:
F1: Bababa ba? (Is this going down?)
F2: *nods* bababa (yes, going down)
That story had the class burst out in laughter :) And that was my way of saying Adios to Anais and Joao but we searched for each other in Facebook which is good so we can still communicate :)
As soon as I arrived home, another great sandwhich was waiting for me and it was ham again but I had cucumbers and tomatoes to go with it and it was amazing!! :)
Then the Eleazars came back, I snapped a picture of their family but I took it using my big camera so I will post them later on.
I left the house and took the advice of Mama Eva to visit El Parque del Retiro.
From Estrecho, I took the Metro to Cuatros Caminos and changed trains and it was a long ride because the train took a number of stops before I reached Retiro station. When I arrived at the park, I thought to myself "ok it's a park....."... But as I walked some more, I realized that Mama Eva was right!
Sorry for the pic. It's kind o embarassing to take a picture of myself alone in the park. But i had to show you that i was there :) i'llnpost better pics later. There was a boating area just like Burnham park in Baguio but this is prettier!! And it's huge! And all that walking made me hungry. I was thinking of eating a sandwhich but I thought it might be too heavy and I won't be able to eat the dinner that Mama Eva will prepare for me. Oh by the way, a Spanish couple called my attention and asked me to take their picture. I'm so happy because I can actually converse with them like a local :) i also took a picture of a Dora the Explorer walking:
And Mickey mouse by the fountain:
This park was a great place for me to see what the locals are like. I noticed that many Spanish people love to bring their kids on strollers and some even roller skate around the fountain. Some perform by the river english songs and many just sit by to relax and go people watching. Well, there are those who are not ashamed to kiss and cuddle in public. It's Europe and that's what Europeans are like. There were many who were lying down on the grass in their bikini tops.
There are Filipino Jejemons around too :)
Well, I forgot to buy something yesterday so after the park I went back to El Corte Ingles but before going there I stopped at Burger King and ate Onion Rings.
Onion Rings: 1.95 Euros
Mayonnaise: .50 euros (yes you have to pay for the mayo :p)
But oh well, I was happy and stuffed but not stuffed enough to skip dinner :) After El Corte Ingles I headed straight home. I was so tired. Really really tired.
I fell asleep for awhile and then later Mama Eva woke me to teach me how to heat my dinner in the microwave, It was HAM AND CHEESE PIZZA!!!!! :)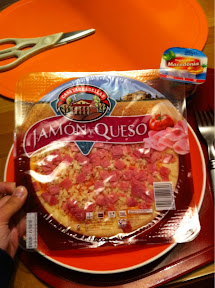 After so many things, It was really good night Madrid for me :)