I was woken up by the ringing in my earphones (yes i sleep with them on so that if my family calls me i can hear the ring even if my phone is on silent).

It was a facetime call from my amorcito Epoy :) he was with my family in pureza. He spent his sunday with my family. How cute :)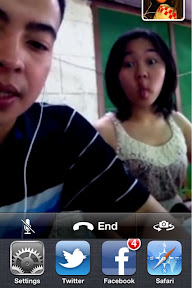 After the facetime call i fell asleep again and when i woke up another face time call came up because my cousins were already there. I spoke with my paternal grandma and she cried.
The first time i talked to my maternal grandpa, he cried too.
I just chilled on my bed and facebooked and googled for spanish grammar stuff and after a while i attempted to do something new to my hair but in the end it became a half ponytail... Just as i was chaning clothes because i will be buying mineral water, Mama Eva knocked on my door because the Eleazara wanted to say goodbye. Ay Madre Mio! I was not dressed properly to face them. I was wearing my white tank top and my naval rotc shorts... With the GANUELAS on the side hahahaha! ¡QUE DIVERTIDO!
So, after that incident, i dressed up because i wanted to go out a bit but the problem is, i don't know where. After a few minutes, Mama Eva arrived home and then told me about a place called El Rastro. It's like a Divisoria+Greenhills tiangge because it's an open place but wider. She was supposed to eat out with a friend but her friend was not answering the phone. When her friend did she said to meet up at 14:30 and it was o ly 12:30 so she decided to bring me there because she needed white pants.
We took the metro from Estrecho to Tirso De Molina. We talked while we were on the train and that was good practice for me. We talked about books and what kind i read and other things. When we arrived at the Tirso de Molina station, we walked a bit in the open area and there it is!
There's so much things you can buy at a lesser price compared to department stores. They even have second hand books.
I took a picture of the beautiful Spanish shawls because my mum would have loved to come here for these.
Remember I mentioned in a previous post that i went to El Parque del Buen Retiro? (the park similar to Burnham Park). Well, there was one performer there that sang english songs and he was at El Rastro now. I could not NOT take a picture this time.
Here's a closer picture:
We looked for the place where Mama Eva was planning to buy her pants. After that she left me there and i explored a little more (hence the title Mimi the Explorer).
I called Epoy when i took a rest on the side walk. The place was huge and it was hot today. The sun was high up. I told him where i was and he wondered if the people around me could understand me.
I left the place without buying anything. I just wanted to see the place and at least if i need something i know where to go. Ih by the way it is also like the sunday market Sid Cor in North Edsa. It's a sunday market too.
Europe has a lot of those "drop a coin and a person in costume moves" thing. Here's one worth taking a picture of:
I bought water on the way home that's why i had the chance to take pictures of what Siesta Time on a Sunday looks like and the metro. Here's Siesta Time:
Shops are closed, streets are almost empty because they are normally packed with people on the terrazas or eating al fresco.
And here's a tour of the metro:
Normally PDA in the Philippines will raise plenty of eyebrows but here, it's all around and no one cares. Here's a mild one
That's on the escalator descending the metro and here's stressed and messy haired me on that escalator. I'm really tired and hungy so forgive the look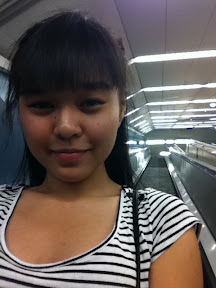 Here's the ticketing machine:
I buy mine normally on that second one:
Single trip ticket cost €1 but i always get the 10 trip ticket for€9.30.
Here come's the train!!!!
When we wait for the next one we look at this screen over here: it says "proximo tren llegara en: 01 min" (the next train will arrive in 1 minute)
As i arrived home i was alone again. I fell asleep :) when Mama Eva arrived she had really beautiful white which she got from her friend's garden.
She made me watch tv in her room and then i watched a cooking portion of news and wow! One of the chefs in the restaurant kitchen they featured was Filipino. How did i know? I just do :p
He's the guy on the left :) and then when i opened the newpaper "El País" (the country), i see an article on the Philippines:
Hello Noynoy! :) it's the first time i am actually glad to see you. You were a face i normally saw in the Philippines that's why i did not care much when i saw you on tv but now i realized i actually miss you hahaha!
Oh by the way, it is the elections of Spain today but i still do not understand how their elections work. I have to read about it first.
Well i atr dinner and it was really delicious! It is a native dish of Jaén, Spain. It had Garbanzos and other things :) i love it! All the stuff Mama Eva cooks are goooooood!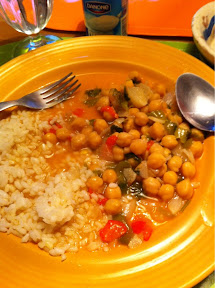 I had very sour natural yoghurt too :) as you can see above my main dish.
I did my evening rituals (still thinking about that undergarment that fell last night). It's early to bed for me because i have classes tomorrow. And who knows, I might receive a call tomorrow morning. I love waking up to that :)
Buenas Noches y Dulce Sueños Madrid! Hasta Mañana donde me despierto (good night madrid, see you tomorrow when i wake up) :)