Well, it's a Wednesday morning here in Madrid, as usual, Mama Eva's allergies is at it again. But she's pretty sure later it will go away. I had the same bread with chocolate today and some galletas with sugar and the very reliable Orange Juice :)

Well, i woke up quite early, so i had breakfast at around 7 today. So i had time to check and post in Facebook before I prepared for school. oh wait! I'm already prepared :) It was just too early to leave.

I decided to wear my tan ankle boots today which Mama Eva loved :) I just had to be careful not to slip in the Metro.

Here's a sample of a non- rush hour interior of one line of the metro:



In class we all talked about weird food that we have eaten. I told them about our native "Balut" or underdeveloped duck egg :) the "huevo de pato con un patito poco desarollado" hahaha! quite a mouthful.
And then we had a little activity on job interviews. My German Classmate Robin made an ad about Nurses for Hire. I had to pretend that I was interested and here goes our little booboo conversation:
Robin: "Quieres VER el sangre?" (Do you like to see blood?)
Mimi: "Si en mi pais bebemos sangre tambien!" (In my country we drink blood too - I was refering to our "dinuguan")
*Class bursts out laughing* ...They thought I heard "Quieres BEBER el sangre" which was "do you like to drink blood?" because Ver (to see) sounds a bit like Beber (to drink).
But I explained that I said "tambien" or "also" at the end of my sentence because I not only like to see blood but we also drink (well, eat actually) blood :) That was a good comeback for me :) But they now refer to me as bampira (vampire) or bampirita (little vampire) :)
Here's a Paparazzi shot of my classmates Felipe from
Brazil and Isil from Turkey (who lives in London but has a Spanish Husband :))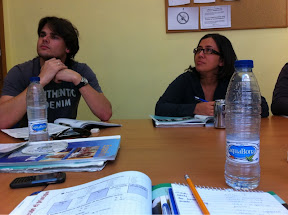 Normally after class I check my phone for messages or my facebook for messages from my family, my amorcito (boyfriend) or friends. But too bad I did not receive any. So I just went home and boy am I hungry!
I couldn't wait to see what I was having for lunch and I had Pita bread with Jamon de Jaen (Ham from Jaen), and very sweet tomatoes. I love them!! :)
I was able to talk to my family thru facetime and I am really happy! :)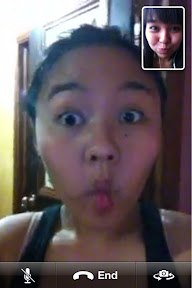 After a bit of rest I went out to buy a Spanish sim card. I am contemplating whether I should get the Yoigo or Lebara. Here is my network table
Yoigo:
(Within spain)
Text: 0.10 (euro cents)
call: 0.10 per minute
(To the Philippines)
Text: 0.35
Call: 0.35 per minute
Lebara:
(within Spain)
Text: 0.13
Call: more or less 0.13 per minute as well
(to the Philippines)
Text: supposed to be around 0.21 only but when I checked it only cost 0.16 only
Call: 0.16 per minute
Now I have a dilemma. But I chose to get Yoigo first because it is cheaper to use for local texts and calls. I will be here in Madrid for 2 months and I need a line that I can use to communicate with my Foster Family.
After getting a sim card, I went to Bershka to buy a few racerback tops. I forgot to bring tops to use at home and as alternative to my pyjamas so I had to buy racerbacks so i can use my Forever 21 tank tops as house clothes.
I arrived home and nobody was there so I just rested for awhile and then Mama Eva arrived and I ate some kind of young cow meat. It was not exactly veal. I forgot what she called it but it was good. AND IT HAD RICE!!!! :)
And after dinner and a good bath, it was Good night to Madrid! :)