This morning i woke up really late because i talked to my family between 01:00 and 02:30.

I was supposed to go to a museum but since i woke up late i just decided to stay home and fix my stuff.

Oh here's picture of the day :)





Irina came back thia afternoon from the concert in Cadiz and i am glad because that means we can all eat dinner at the Filipino restaurant here in Madrid :)
In class today we changed classrooms because our old classroom was so crowded and the lighting is really bad
Oh by the way i tried to look for a pay phone in school and when i did i could not use it because look! It's the yellow thing. It's so high up i can't reach it! Hahahahaha! I had to ask help from Claudia who was taller and can reach it but she still had to tip toe to read what was written in the screen.
Anyway, after class, i went straight home to reat and prepare myself for our dinner.
Mamá Eva decided to drive because it's better than taking the metro and having to walk far to reach the place. If any of you are interested in trying out Filipino food, the address is:
Paseo de la Castellana, 172
Madrid
,
28036
Schedule: Monday to Saturday13:15 to 16:00 and 20:15 to 00:00 / Sundays 13:15 to 16:00
How to get there: Linea 10 Cuzco
Goofing around with Julieta :)
There it is! Sulú :)

This retaurant is in Paseo Castellana and the only Filipino Restaurant so far, listed in Madrid's guide books.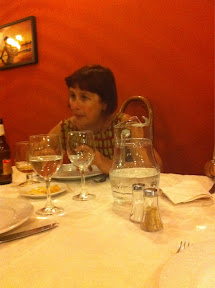 Mamá Eva ordered Pancit Bihon which was a bit bland but with the proper sauce it became better :) but we ordered Rolls de Verano and then Shanghai rolls which is my all time favorite and wow it was good. I also ordered Lumpiang Ubod :) Maybe because I know what my country's cuisine taste like so the food here tasted different. Probably, also because they adjusted the taste to be more adaptable to the Spanish taste buds :) But just the same I am proud to say that there is a Filipino restaurant in Madrid :)
We ordered Fried Rice although i had to remove the shrimps.
It was my treat today. It's my country's cuisine and it's my last week with them (and my last night with Irina) and so it was my treat :) i had a picture with my dear Irina :)
Mamá Eva and her car when we arrive home :)
We enjoyed each other's company tonight. I really love my Spanish Family and also Julieta. I'm lucky to have them :)
-- ¡Buenas Noches Madrid!