This morning i stayed home because it's a monday. Even if i wanted to visit museums, most of them are closed so i stayed home and "rolled" some of my clothes. And when i say roll, i literally roll them because it's more space efficient but ofcourse my clothes end up wrinkled but i'm going home anyway :)



I spent most of my morning segregating my stuff. I had o ind out which ones i have to bring home with me and which ones i will send through LBC. I bought so much books, and then ny school books included, ¡Madre Mía! Really heavy stuff.
Lunch time, Mamá Eva left me salmon cooked in vinegar with capers and onions and red pepper (not the usual ones. We have black pepper and his one is the red version :) it's sooooo good
Aftrr lunch i went directy to school and no i did not buy a book for this new level because that will just add weight to my luggage and anyway i can buy the book in instituto cervantes when i continue my studies.
We have a new teacher who replaced Rocío. His name is Abel. He's really funny
I have new classmates too from Russia, France, Brazil, the US and Germany.
After class i spent most of my time rummaging through books in El Corte Inglés. Because when i go back to the Philippines it will be more difficult to buy books written in Spanish so i have to grab this chance.
When i arrived home i asked Julieta if she feels like going to Chueca for a walk after dinner and so we did :)
Oh dinner this evening was a French type of soup and we also had Salchichon and sala and bread :)
We even had ice cream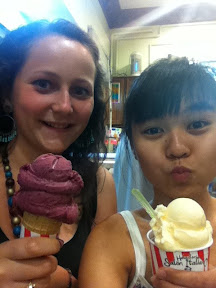 And look how beautiful the evenings are in Madrid. It's so alive!!
I wasn't able to take anymore pictures after because of my battery but anyway, that's
What happened today :)
-- ¡Buenas Noches Madrid!