My main topic for today is my mini reunion with my Spanish teacher :)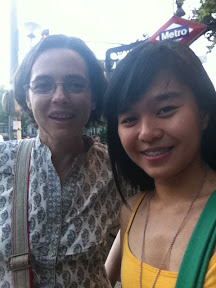 This morning i stayed home to finish my homework and rest a little.
I left for school after eating lunch.
and ay ¡que rollo! (how boring). But i think it's not boring because of the teacher. It's because of the schedule and the lights which are bloody dim and the classroom itself.
Today's lesson was pretty confusing. I'm not gonna start writing about it here though :p
After class i met up with my teacher when i was still in Elementary i think or was it early highschool? I really think i was still in elementary..... Oh well :) not much difference. I did not grow much :)
She brought me to the teleférico and it was amazing!!!!!! It was a panoramic view of Madrid and it was a spectacular view. Too bad i only had my iphone with me and i could not really take much fotos because we were talking :)
After the first trip, we stayed for a few minutes in the cafeteria of the teleferico an i drank Horchata for the first time. It's a very typical drink from Valencia and i did not realize how good it was! It was realy delicious :)
On the way back i snapped a few paparazzi shots of my teacher :)
And the view in the cable car. View IN not FROM :)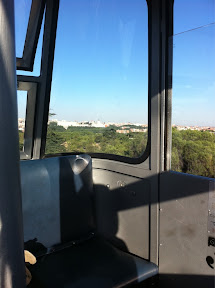 And then we walked and talked and talked and walked :) hahaha! We walked along gran vía and chueca and she dropped me off at Bilbao, but before we said our goodbyes for the day, i snapped a picture con permiso (with permission) this time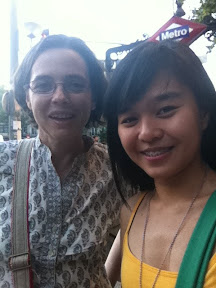 In the evening i ate dinner with Alana and Mamá Eva served us her chicken which is the best of the best of her cooking so far :)
Well, that's about it for today :)
-- ¡Buenas Noches Madrid!