Today i have to bring all of my stuff to the LBC office in Calle Doctor Cirajas. Sardines, a few clothes and booooooks. Like 20 of them haha. I was contemplating on putting the computer keyboard with the "send home" stuff but my dad told me to bing it with me because it might get crushed

I will try to make 2 3/4 months of life inside this



I also finished rolling almost all of my clothes
I had to get a taxi to transport my stuf because i will break my back if i use the metro.
I packed my stuff there and voila! I have to wait around 50 days. But no problem. I'm not very impatient.
I rushed back to the metro because i need to meet up with Julieta for our "despedida to each other lunch".
We ate at the usual, the Cafe Moderno also so i can say goodbye to Rodrigo the camarero and Virgel the Filipino cook.
Here's Julieta with our basket of potato chips
After lunch she had to rush home because her flight is at 18:00 back to France
Since i still had time, i took a few pictures of the road to school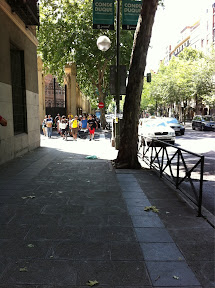 I'm going to miss this place
Here's the door of my school.
The reception
The clock :)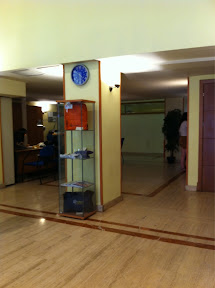 I know i'm a dork :) haha! Here's my last class picture, but i'm missing Magda who went home because she's sick. And Elena the other Russian and Elise who went home
And i'm glad i saw Jose Luis too before leaving :)
I started to reminisce before going home. I took a picture of that cinema where i watched Piratas del Carribe with Induja
And San Bernardo Entrance of the Metro
Oh wait i almost forgot. Outfit of the day, the über comfy Bombachos. I love them even if they look a bit funny at times. It's so comfyyy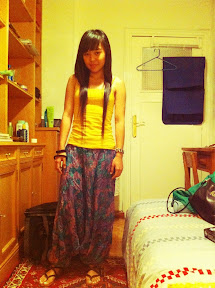 And then i went home to eat dinner with Mamá Eva. It was quiet with just the 2 of us but it's like bonding moment :)
After that i started doing my luggage again and then it's ¡Buenas Noches! To my beloved Madrid