I woke up early today because i need to look for the LBC to be able to send some of my things home. I can't put them all in my luggage because i will have to pay for overweight fees.

I looked for the address online and the telephone number. I tried calling the number but it just ate up load because of the answering machine thing.

I looked for the Calle Fernando El Catolico but aparently LBC is not there anymore... So i used a public phone to try calling again and por fin! Someone answered and told me the REAL direction.

ADDRESS:
It's now in Calle Doctor Cirajas, 12, and you have to take metro line 5, the green one to Ciudad Lineal and then take the Salida (exit) Centro Commercial. Walk a little and turn right and that's it! haha

In metro Quevedo there's some kind of hi tech passenger guide on the platform. ¡Que Guai!!! (how cool!)





I passed 3 men today that all said the same thing to me "hola chinita guapa!"....(hello beautiful chinese girl)..... I'm not from China (-_-)#
And then i finally found the LBC and met Vicky and Tess. They explained to me the process of a "balikbayan box" or the really really huge box that i think 2 of me can fit inside. I'll just come back tomorrow to bring all my stuff because i still need to buy Sardines :)
I went back to eat lunch because i don't want to be paying for food i am not sure of. With Mamá Eva's cooking i am always sure it's good :)
I rushed to school because i might be a little late. During class, Carolina told me she had a little gift for me and then brought out my certificate :) instead of writing "principio de Avanzado B2 (Beginning if Advanced B2)" because i am only able to take 1 week of this level, she just wrote "Avanzado B2" because she feels that even without to the next chapters of the book, i can make it :)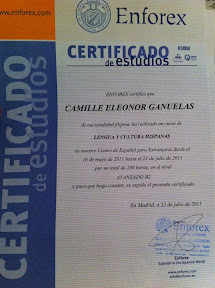 i'm so happy. And my evaluation, almost all are 9's except for auditory skills which was a 10 :) those are the highest grades tey can give :)
i'm really happy and my family will be so proud
We had a laughing session with Carolina and Abel. I really hope i could stay longer but i can't.
After school i went to El Corte Ingles to buy a few more books and keyboards with Spanish characters, and ofcourse Sardines. My friend Ruben from the book section was not there so i just left a message since he does not have work fridays and saturdays and those are my last days in Madrid.
These are the books i bought today. The bigger ones were on sale.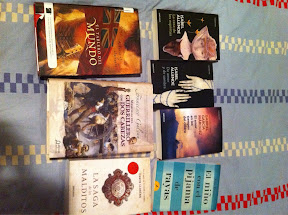 The books and the 20 sardines and the keyboard were heavy!!!! But i managed :) i just wonder how i can bring these to LBC tomorrow. I don't feel like taking a taxi because taxi drivers here drive as if it's the last trip of their lives.
I finally saw "el niño con el pijama de rayos" (the boy in the striped pyjamas). I watched the movie and it was soooo sad
Now i habe to bring all of these home
I organized my stuff before sleepig and so,
-- ¡Buenas Noches Madrid!