Exhibitionist: noun. A person who can't do anything with his/her miserable life and finds pleasure in showing off his/her reproductive organ/weapon to anyone.

As you read on you will find out why i wrote that :)

Anyway, this morning, Alana and i were supposed to visit "El Museo del Aire" or the "Air/Aeronautics Museum" of the Spanish Airforce.

I'm posting this picture because some people are asking me why i don't post pictures of the stuff i wear anymore. That's because sometimes i have to repeat clothes :)


We found out that It's either we take the Metro to Cuatro Vientos or we take a bus in Principe Pío to take a bus to that place. Although i had a gut feeling a bus would be better, we asked the guy who works in the Metro at Principe Pío and told us that it would be better if we take the metro to Cuatro Vientos. We did what he said. It was a looooong ride. There were even stations above the ground. It was odd to see natural light in the train. This picture was taken in Batán
We saw a supportndog for a blind person. He was so cute.
But it says in his back "no me toques por favor. Estoy trabajando" (don't touch me please. I am working)
And a sleeping lady with rainbow nailpolish :)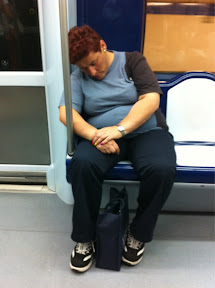 When we arrived there, it was really odd that when the elevator surfaced, we were already near the highway
Here's the photo of the metro elevator
Here's the highway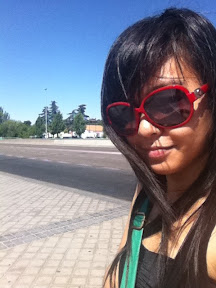 They said it was about a kilometer away from the metro so we started walking and someone told us we had to cross so we walked through the underpass
And then the other city cleaner guy told us that we had to cross back because we won't be able to go cross over to the museum so we have to go back where we came from.
We did and then we walked and walked and walked and realized our walking is futile so weturned back an decided to go back some other time but in a bus this time. Near the metro station, there was a guy in a car, who called us to ask for directions and then i said sorry we don't know the roads in that area. Then he asked us another question which we did not understand and then asked if Alana was a foreigner too and then i looked at Alana and when i looked back at the guy to answer, he suddenly flashed his male signature at us!! And we wanted to throw something at him. Alana wanted to throw a fruit at him but i told her it would be an insult to the fruit. So we just ran.
We rode the metro back but this time we stopped at San Bernardo so that we were near the school.
I brought Alana to the Cafe Moderno and i was surprised because Rodrigo. The "camarero" (waiter) already knew my name :)
Alana enjoyed her pizza and then came our problem of paying. Virgel, the Filipino chef did not want us to pay again and i don't like that. It's enbarassing because i had someone with me. But he really insisted and i could not argue anymore because we had to go to school already. And so i just gave up. Well, i guess that's another free lunch for us.
In school, i had 2 more chinese classmates who apparently went on vacation that's why they did not come to the first 2 days of class.
During the break, Maria Ozerova, my dearest Russian friend cane over to my class to give me a piece of Russian chocolate and i was really so happy to see her :) but before i could take a picture with her, my next teacher ame and so she left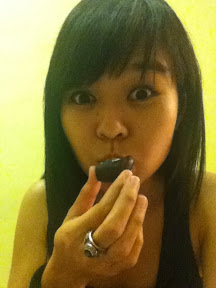 After class, we walked to Sol because we were supposed to meet with Mamá Eva to go to this Mexican celbration. We saw the Capitol, the 7 floor discoteca on the way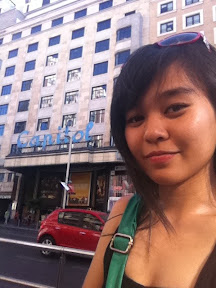 We went for ice cream before meeting with her:
And then we also saw a dog with cats
Apparenty it's the birthday of Frida Kahlo :) pardon me for the weird angle of the picture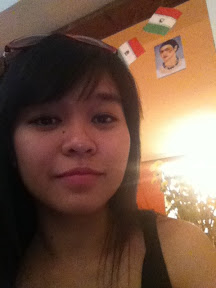 There were little Frida shrines and a slide show of her pictures
And then i asked Irina a grammar question and all of a sudden there was a debate between her and her mum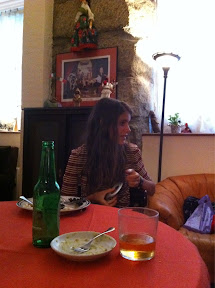 And then the next thing i know, the 3 or 4 ladies behind us were now involved as well
Well, i forgot how it ended but we went home and we were all sooooooo tired. So we decided to call it a day.
-- ¡Buenas Noches Madrid!