Tonight i am going back to Ya'sta for the Fluor party :) because Secci, and María de Almería will be there and it's a good time to ask my questions because my exam is tomorrow :) hahaha! I know it's weird. Party before the exam :p

Here's a picture of Secci, me and another pretty María, María Zaragosa :) so much Marías here i think i have to change my name to María too.




Anyway, my day started boring as usual. I studied my old exercises and yeah basically morning is study time.
When Mamá Eva arrived, she cooked something for lunch :) Paella!!! But this one is special because unlike in the Philippines where we use chicken and seafoods, here some people like Mamá prefer conejo... bugs bunny... playboy RABBIT :) hahahaha!
She's an excellent cook!!
I asked her why did she not start her own business and she said she wanted to but she would prefer cooking for her students and a smaller group :)
After lunch, i went to school and wow was the lesson diffiult today. Ugh... Or maybe i just need to rest my mind.
But anyway, Yahan brought us Turron. Now i know what Turron is. If you guys read my Huelva post when i viaited Huelva, i ate ice cream Turron flavor :) it's Nougat :)
After class, i went straight home to read a little more, and prepared for tonight. An we had paella again for dinner and i love it!!!
When i got off at Gran Vía, i walked around a little because i was a bit early. Yes 24:30 is early here in Madrid. And then i bumped into María de Rusia or María Ozerova :) and since the place was not open yet we devided to go to another one first
I forgot the name but the ambience was great and then we had a Malibu con Piña which is now officially my favorite. It took the number 1 spot from Mojito. Those are my favorite drinks that are not too strong.
I will have to say that María is one of the best people i've ever met here in Madrid. She's very funny and she's kind and i love talking to her.
We met a person named Marcelo who had a business near by. He volunteered to take our picture and so we had a little chat because he also wanted to speak english but he has no one to practice with so he spoke english sometimes, and we spoke spanish almost all the way :)
After that we went back to Ya'sta. And por fin! Secci and María de Almería were there!!
And the glowing people!!
Too bad i was not able to take a picture with María de Almería.
I met new friends, Ramon, and María Zaragosa. Yes i was surrounded by Marías :)
And i also met Severin from Switzerland and his friends from France :) sorry i cannot rotate.
And ofcourse my lovely professor and friend Secci and another beautiful María. I love Spanish people. They're so friendly and easy to talk to. And during the party i was such a kill joy because i kept on asking grammatical questions but thy did not mind and i love it when they correct me when i say something with wrong grammar but now i felt more confident to speak because i can actually carry a conversation already :) i don't look as much in my dictionary anymore :) thanks to Secci and his beautiful Tres Marías :)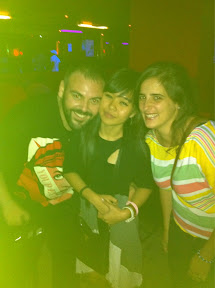 Notice how everyone needs to crouch a little for a picture with me :) hahahahahahaha i always tell them i am the missing super cool dwarf of Snow White :) and my name is "Hungry" because i love food. Hahahaha!
And then María Ozerova and i decided to call it a day because we have classes :) and look how nice the lighting is in Madrid a night. That's why it's not scary to go home at night ornin the weeeeeee hours of the morning because it's so bright and police still roam around.
And now i have to say i made the most out of this day. It's what we love to say in the Philippines "study hard, party harder"... But i did it equally :) i studied while partying :) hahahahaha! Muy bien! Tres puntos para mi! :) hahaha! No sé porque tres. (i don't know why 3).
-- ¡Buenas Noches Madrid!