We have decided to go on a trip today to El Rastro to buy gifts, and Segovia :)

Mamá Eva had been wanting us to visit Segovia for a really long time now and now is our chance.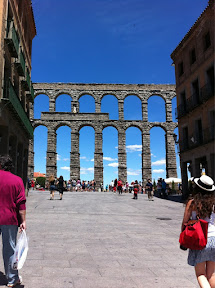 We went with my Russian friend Rina who studies at Don Quijote and not in Enforex but they're almost the same school with the same goal so "no pasa nada" :) (we use this as an expression to say "that's nothing or it's ok) :)
We met at El Rastro at 10:30 and gave each other 1 hour to do whatever we need to do. On the way back we saw the Jesus Christ with the cross again abd there was an american girl who tripped on his goblet with coins and Jesus said to pick it up but she pretended not to hear and left, i could not help either because the place was packed with people and i was walking the opposite direction and was being pushed so i had to leave already.
We took the metro to Principe Pío where the bus stations are and then we took the bus to Segovia and i guess Julieta and Rina were so tired from all that walking they fell asleep
As soon as we arrived there and alighted from tge bus, we already felt the cool breeze. It's not cold that we need a jacket. It was just more "fresco" (cool) than in Madrid.
It was like going back in time here. Almost everything from the past was still intact but sone were improved to adjust to the living conditions of this time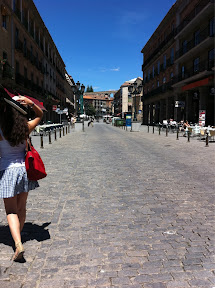 We were hungry bcause it was already around 14:00 and so we ate at Pans Company
After eating we walked some more and wow! From afar we can already see the Roman Acueductos!
These Acueducts (i'm not sure what ithe english name is. I'm starying to lose my English words) were built by the Romans many centuries ago, i think 1200 to help with the water problem.
Pretending to be Samson :) ahahaha with the long hair and all. There were stairs we had to ascend to arrive at the top where you can see a different view of the acueducts and to see a view of Segovia :)
Can you see the town behind? Beautiful isn't it? ;)
Now for a picture with Rina
I had to get a can of Fanta Limon to keep me alive. A little sugar rush :)
We walked some more until the Cathedral of Segovia. It was an amazing cathedral from outside and it was worth the look inside too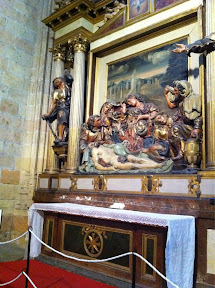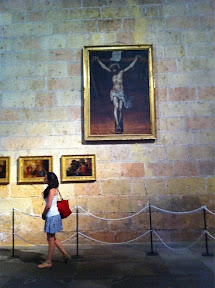 This portion had an amazing ceiling too
And now the tapestry covered room. Normally it is prohibited to take pictures inside
Julieta and Rina had to sit for a while to rest
Here's the reason why everyone was able to take pictures so freely. The two ladies who were supposed to look out for the stuf were just talking outside :)
After the cathedral, we walked some more to look for the Alcazar which, according to the map is not so faraway. We reached the place and from outside the gate there was a spectacular view!!
And the Alcazar itself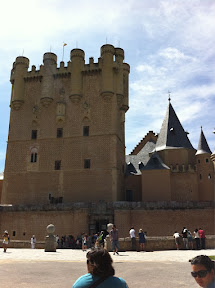 It reminded me of a castle in the medieval times with the moat and all but the moat was dry. Yes, medieval :)
A throne room :)
And other interesting rooms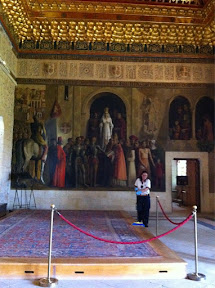 Haha the plastic bag ruined it all hahaha
After the Alcazar, we walked back to the station o go back to Madrid. It was an amazing experience to walk through Segovia.
We said our goodbyes in the metro and back home we went. We had Salmorejo for dinner which was exquisite! And then
-- ¡Buenas Noches Madrid!