I couldn't make myself get up from bed. "me costé mucho para levantarme" (it was difficult for me to get up)

I ate breakfast with Jaime and Colleen, my 2 american foster sisters. They were going to go to Toledo this morning that's why they had to wake up and eat early. And then they kept sneezing too. The temperature and the weatherbchanged so much these past few days. A lot of people are sick.
Oh by the way there was something different about breakfast today.... NO GALLETAS!! just the butter cake and some donuts. Yes there it is on the upper right :)







IT WAS FREEAAAAAKIN' COLD!! i wore my red knitted coat today and it didn't help much.
...It was 9 degrees earlier and it was not the cold temperature that was bad. It was the wind. The wind made the cold feeling the worst. And i now officially have the colds. MR. SNIFFLES GO AWAY!!!! DEJAME! (leave me alone!!)
I walked faster than usual today because the cold was stinging my skin.
I hurried to the metro because it's warmer down there. In the metro i was already thinking about the cold once i surface at the San Bernardo stop of the metro.
Once i did surface ¡Madre Miaaaaaa! ¡Hace muuuuuuuuucho Friioooooooo!!!!! The wind seemed to literally slap me :) haha! I love the cold, i like it better cold but right now that i don't feel so well, i am not loving it that much.
I arrived in school and thankfully it's warm in the classroom.
Well, we discussed more of the future tense with Marisa today and so with Esteban. I honestly think that we are a bit too much in class. It was difficult to move and write because we're too close to each other.
Emmanuel, my french classmate was my partner for today and we had an activity about making some sort of ad about our city... I wrote about manila instead of quezon city because there are more things to write about Manila than QC in terms of tourism.
Then we talked about future plans and he apparently worked with an animator and he showed me one of his doodles.... This is just a draft, "pasatiempo" (hobby)... What more of he was asked to do some professional thing.
After class i went straight home. I was supposed to buy shampoo today because i am running out of shampoo but i don't think i can right now, i feel really sick today. My cold became worse and my head hurts a bit.
For lunch, we had empanada with tuna and on my rice there was spaghetti sauce with tuna as well. I actually like it :)
But what i loved most about lunch today was the lemon yoghurt. I don't normally like lemon but this is by far THE BEST YOGHURT I HAVE EVER EATEN!!!!!! it's like the natural yoghurt only a bit sweeter. This ia the kind of yoghurt i like.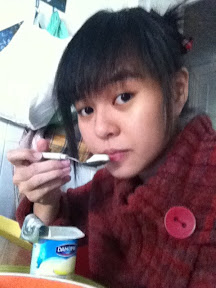 Mmmmm....
My cold was killing me and so it was good that my family called me earlier to remind me that i have Theraflu in my med kit... Theraflu is the tea we take when we have fever, colds, cough, etc.
The theraflu made me sleepy and so I fell asleep later and i woke up at 21:00... I couldn't get up until Mama Eva said "dinner"... The magic word :)
We had white sauce pasta with zucchini and sausage. I ate with Jaime and Colleen this evening and we talked a little about their Toledo trip. I am glad they enjoyed because i know i did when we were there.
I took a bath earlier today and then i did my homework while waiting for my hair to dry.
My skin has finally adjusted to the climate here. I stopped breaking out. Haha! Thank you for that.
Well right now it's 22:59 and i am quite tired, sleepy and my head is very heavy so i will retire early tonight.
~*~*~¡Buenas Noches Madrid!~*~*~