It's a saturday!!! Woopeee! I can wake up a little later than usual like all madrileños...
And today's feature.... Museum stuff:




Anyway, I had my usual cake and cookies and the donuts that was pretty tough to eat so i was not able to finish it.
I took a picture of Mama Eva preparing Irina's breakfast.
My 2 American foster sisters went to Segovia this morning. I better plan a trip to Segovia with my friends too. It sound's amazing.
I'm very happy this morning because i received a videocall from my amorcito because he was in our house :) he visited my family together with our dear friend Mark who happens to be my stage and ever supporting proud friend ;)
Induja and i agreed to meet at 11am at the metro. I arried ahead of her at the Atocha station and look what i saw!! Dunkin' Donuts :)
Finally i found Induja, and we looked for the Museum
Of Arts of Reina Sofía :) and because we had our student id with us, our entrance was freeeeeeee :)
This was the first section we saw.... We did not understand this room at all
There were rooms with Communist paraphernalias and propaganda stuff displayed too:
We think this is Karl Marx... What do you think?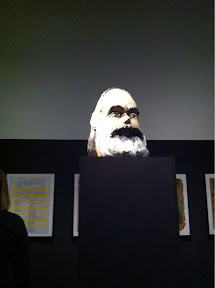 Here's Induja looking around:
This i am not sure of but it's art, everyone has their own interpretation of each piece: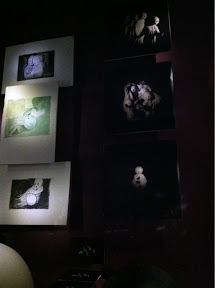 Induja by a Miró sculpture :)
And then there were 2 of us :) finally someone i can be with in pictures!
Here's one of the more modern and abstract works: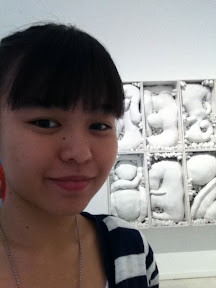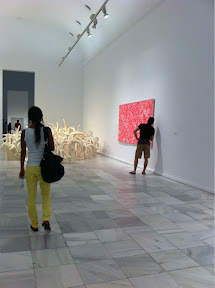 This one i like. The museum not only houses sculptures and paintings but pictures by photographers too: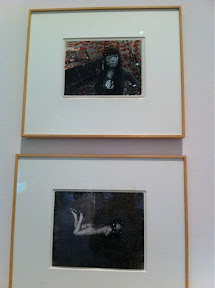 This ia by a Japanese artist. I have no idea what it's for but it's cool:
This is a view from the lift :)
Here's one by Picasso: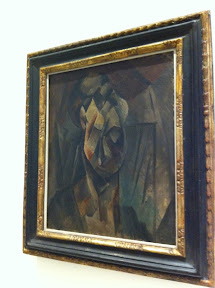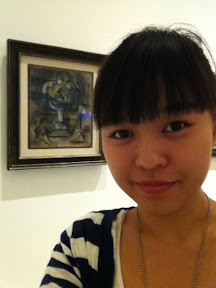 And because i am a very "pesada" (hard headed/pasaway) person, i took pictures in the no permit zones:
Hello Map Reader :) I honestly don't like the structure of the building. It's too much of a maze, it was tiring.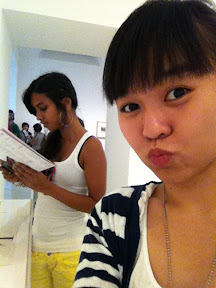 Joan Mirós works:
I like Joan Miró because his works are different and he let's the viewer interpret his works on their own. It will be upto the viewer how he or she will see what the picture really is.
And because it was tiring to go around, we got hungry and decided to eat at a nearby pizzeria. I forgot the name of the restaurant but we ate Madrileño style, at the terraza instead of inside. I ordered a rectangular pizza and she ordered Lasagna: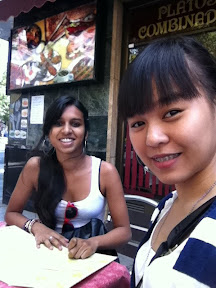 That thingy on the left is the slicer :)
Well, we said our goodbyes because Induja was going to meet another friend and i had to go home already so hasta el lunes Induja :)
I saw this at the Estrecho station when i went home:
Apparently it's the return of the little prince... Hm... I'll check that out. I think it was written by a descendant of Antoine de Saint-Exupery.
When i arrived home it was meal time again, simply empanadas and the "crema de brecoli" :)
(the soup was not included in the photo because i ate it already)
While i was eating there was a problem with the bathroom door. It got locked from inside!! So Mama Eva really panicked and everything was in chaos... Until finally someone from downstairs came up to fix it.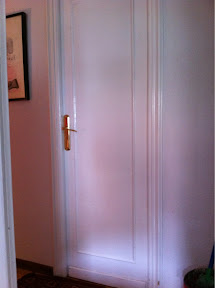 Here's Señor Marcos who fixed the door by sliding an x-ray sheet to knick the lock open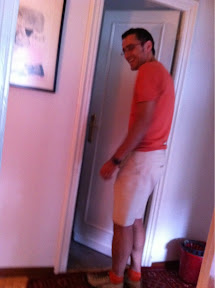 Mama Eva was so happy. Then she showed a book to Señor Marcos:
Then she showed the messed up clock as well just in case Señor Marcos' magic hands can fix it :)
As for me, i went back to the room after everything went back to normal and i read my books again :)
And then Mama Eva called me to show me that she was making some kind of "biscocho" with chocolate and bananas :)
Then she showed me tht she will put toppings called "nueces" and when she showed me what those were, i immediately recognized them... Wallnuts :)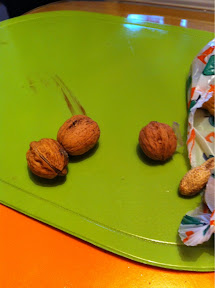 We had fun cracking them like crazy.. And i think this is a good idea for a punishment for boys that misbehave >:')~~~
Then she placed the batter in a rectangular pan and baked it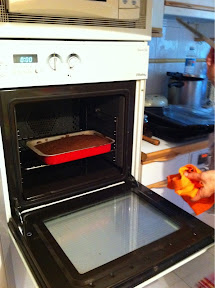 While baking she melted some dark chocolate and added milk and the walnuts to cover the biscocho
Ok here she's covering the biscocho already :)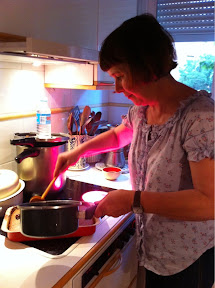 Cubre.... Cubre... Cubre ( she covers)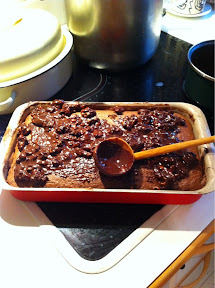 Por fin! (finally!):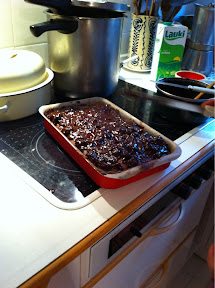 I took a bath earlier today because i wanted my hair to dry sooner. then i had my picture taken with Colleen :)
I think i ate too much chocolate... I'm so jumpy right now...
But you know what, i really really love my Spanish family. They really take care of me and make me feel that i am part of their family. Irina will be taking an exam on monday until wednesday so i wrote her a note which i stuck on her door. I told her "no sé como se dicelo en español pero "you can do it" ¡Buena suerte! Aprobarás todo hermana!" (i don't know how to say it in spanish but "you can do it!" good luck! You will pass everything!)
And when she finally read it, her mum told me how happy they are and she wrote me bak and stuck it on my door as well
It means: in Spanish, you say "tu puedes hacerlo". Thank you, you are like a sister to me!!
I cannot imagine myself being with another Spanish family <3
Well, i must review now for my own exam, hasta luego!
~*~*~¡Buenas Noches Madrid!~*~*~
Ubicación:Calle de Castilla,Madrid,España