Wow i am actually surviving here on my own....
Why the title? Here's the clue:





I shall explain later :)
Well as usual i couldn't get up. It was very cold again as usual. I set my alarm at 7:30 today to give me more time to rest.
I finally got up and breakfast was served for the 3 of us (me and my 2 american foster sisters)
There's galletas today and the usual cake, and some rice cereal thing i don't know what it was but it was good.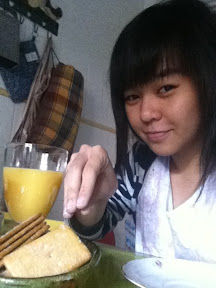 Well, i took my sweet time picking my clothes today because it is really cold and i needed something to keep me warm.
I arrived in school and hey! Guess what? We have an exam next thursday. I really need to pass this for me to be able to advance to level B1. Right now i am in level A2. I really need to advance to B1 to make this schooling sooooo worth it. Haha! And level B1 will definitely be a step for me towards speaking fluenty. Well there's still B2, C1 and C2 but what's important is the confidence and the vocabulary :)
I arrived home and Mama Eva ha lunh ready. It was a sandwhich that is a typical dish from Mallorca Spain. It apparently is my foster sister Irina's favorite :)
After a while i received a video call from my family and they were about to eat dinner back home. Echo de menos para comer Shanghai Rolls (i miss eating shanghai rolls) :)
I rested a bit and decided to go out because i really need to buy shampoo and to look for a western union.
This is what i love about walking. There's so much stuff to see :)
Here is the place where i buy my shampoo. About 4 blocks away from our "piso" (flat).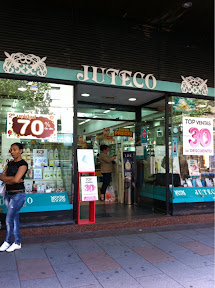 Then on the way back i see a sudamericano (south american) clothing store. They have pants that makes your butt look perky :) hahaha
Oh and i remembered my sister Reine because thu had fro-yo here. I am actually surprised that a lot of people eat here despite the cold. It just looks like there are not much people because it was siesta time when i passed by. There are shops that do not follow siesta time and stay open.
I finally found wester union! THANK YOU LORD!!!
I went back to our piso and i realized something when i rummaged through the stuff i bought... I bought facial tissue called "Scottex" :)
In the Philippines, Kotex is a brand of sanitary napkins. It sounds so symilar... The writing as well. Scottex...kotex....scottex....kotex.... Haha love this!
I changed my nail polish color from purple to light blue :)
As i was drying my toe nails, i heard shouting and some banging from outside my window and i saw a couple fighting. I felt bad for the owner of the car beside their car because the guy was so mad he opened his door so wide that he hit the car parked beside his....
I normally don't like eavesdropping on stuff like this but i want to try to understand what they are trying to say. I want to know what Spanish people are like when they argue.
I noticed that Spanish people love to do hand gestures when they talk. Even when on the phone they start waving tjeir hands as if the person he or she is talking too can actually see. Some wave their hands with their thumb and index finger together like this:
Sorry can't post a gif of the hand geature but basically this is what the fingers look like
Mama Eva knocked on my door to ask if i would like to eat dinner already.... Then i snapped a picture of her cooking :)
We had some kind of chicken meal tonight at pita bread.... And "las lentejas" for the soup. It's almost like our "monggo" soup but cooked differently.
And the best part of dinner was.... MY LEMON YOGHURT!!! Yogur de Limon :)
My colds are still killing me but not like yesterday anymore.
I'm going to do a little promotion here. I had been using these for the past few days here and they are wonderful!! My hair is at its best when i started using loreal's elvive liso-intenso and schwarzkopf's gliss for asian hair.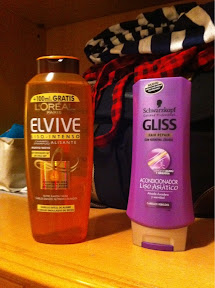 Well ofcourse when it's windy that's another story but it's actually manageable :)
So, after my bath i did my homework and then i read a little and ¡Madre Mia! How difficult to breathe really... So i drank some theraflu :)
Have to rest so,
~*~*~¡Buenas Noches Madrid!~*~*~