I slept late last night and so i had a hard time keeping myself awake after snoozing the alarm.

I'm not going to tell you what i ate for breakfast because i am pretty sure you're sick of hearing about the same thing :) but yes it's still the same and i am not sick of it.

I woke up today with a bad throat. It was itchy and it hurt a bit. I think it's because of the constant change of weather. A few days ago it was so sunny then the other day it rained and now it's not raining but it's freakin' cold!!

I wore something preppy today to keep me warm :) it is very cold today. Yesterday as well but it's
Colder today and much much windier.





Class was a bit boring... Or maybe i just miss our old classmates but yeah the mornig class is quite boring. But i like the afternoon sessions with Esteban. He keeps the mood light even if the people are dead hungry. But i like my school anyways :)
So.... This is Marisa, our oyher professor. I am still trying to get used to her teaching style.
Here is my classmate Maria from Russia:
And we also have Vera from Switzerland:
And we have here Eneas, Amy and Robin...
Robin again, Anna and Caroline...
Caroline again, Emmanuel and part of Induja...
And we have a new one todayx her name is Bianca: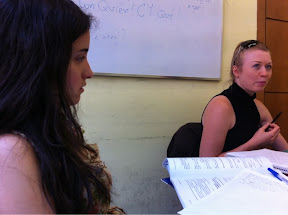 I went straight home so that i can call my family and then i can o the Museo Thyssen.
Well apparently my sister tried to estimate my time of arrival at home and so she called me first.
They discussed to me that the bank back home in the Philippines called the house to tell me that My balance became negative because apparently the interest of the bank or the bank charges verytime i withdraw money is very high. Thankfully my parents fixed it already for me.
I found out that our very good family friend Tita Pia Noda and her wonderful daughter Maika sent us Japanese stuff again and they sent me a doll with the same hairstyle i have haha.
After the conversation i prepared myself to go to the museum. Oh by the way after class i had my student card made but thwy could not put my whole name and instead just wrote my first 2 names because it did not fit.
I brought that card with me to the museum because there's a huge discount for students. Something like from €13, it only becomes 7.50 :) i love it.
Here in Thyssen, it's not the "taking pictures of yourself" that is difficult. It's the "taking pictures in a no picture taking zone" that is very difficult but i managed :) i love this museum. I am proud to say finished all 40+ sections of the museum and also the heroinas exposition.
Van Gohh's painting. I now realized what people told me
before that when you look at van gogh's paintin up close you will not appreciate but when you step farther, you will see better.
This one is taken from the heroinas entrance:
I don't know what the paintin behind me is called but it was really nice: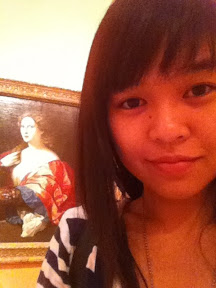 They even had primitive italian pieces such as this that was created in 1242 a.d.
This i saw in the brochure of the museum:
This is a different kind of "Last Supper". It looks more natural than Da Vinci's becsuse inthis painting, everyone surrounds the table. In Da Vinci's, they're all on one side facing the viewers.
I had a favorite painting, it was by an artist called Ribera and it was a painting of the Lamentation of Jesus death. I wasn't able to take a picture because there was a guard standing nearby but that painting gave me goosebumps. It was really beautiful
And ofcourse i will not leave that museum without taking a picture of the Spanish King and Queen :)
Now i can say "i took my picture with the King and Queen of Spain"... See :) :
Hahahaha ok that was weird :)
It was a looooooong walk so i was really really tired and hungry.
Instead of going home right away, i went to cuatro caminos to buy a new notebook to write on and then i walked home.
I met the filipinos i met last time. I'm glad i saw them again because i lost the phone number of one of them.
I arived home and the wonderful Pimieno Relleno or "stuffed pepper". It was served at the table and it tasted magnificent!! I have no idea what she stuffed there aside from rice and ground meat but it was amazing with the salsa with white wine and all that... Oh and some chinese soy sauce. It's not the typical soy sauce we have.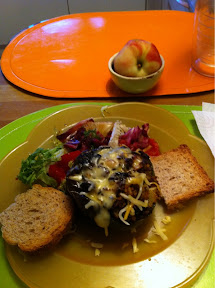 I am sorry if i seen kind of vain but that's the problem when you have to go to places alone. You HAVE TO take your own pictures. It's kind of embarassing but i have to swallow that because it's not everyday that i am here :)
After dinner i watched a few Juanes videos, did evening ritual and then prepared my stuff for tomorrow.
It's honestly so cold right now and i think i am going to catch the cold soon. I better rest :)
~*~*~¡Buenas Noches Madrid!~*~*~